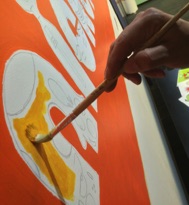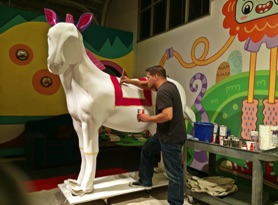 Andre Nieves is a professional cartoonist and animator. When not drawing cartoons, he creates mixed media artworks, paintings, drawings and conceptual art. With a conceptual approach, Nieves touches various overlapping themes and strategies. Several reoccurring subject matter can be recognized, such as the relation with popular culture and media.
His mixed media artworks directly respond to the surrounding environment and uses everyday experiences from the artist as a starting point. Often these are framed instances that would go unnoticed in their original context. By applying abstraction, he tries to approach a wide scale of subjects in a multi-layered way.
His work often refers to pop and mass culture. Using written and drawn symbols, a world where light-heartedness rules and where rules are undermined is created. He creates intense personal moments masterfully created by means of rules and omissions, acceptance and refusal, luring the viewer round and round in circles. He's had several exhibitions at Fox Animation Studio, Nickelodeon Animation Studio and Gallery 839.
Andre Nieves was born in Brooklyn, New York and studied Art, Film and Animation at the School of Visual Arts in New York City. He currently lives and works in Burbank.