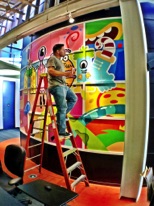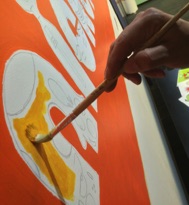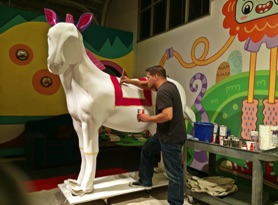 Andre Nieves is a professional storyboard artist, prop designer and animator. When not drawing cartoons, he creates mixed media artworks, paintings, drawings and conceptual art. With a conceptual approach, Nieves touches various overlapping themes and strategies. Several reoccurring subject matter can be recognized, such as the relation with popular culture and media.
His work often refers to pop and mass culture. Using written and drawn symbols, a world where light-heartedness rules and where rules are undermined is created. He's had several exhibitions at Fox Animation Studio, Nickelodeon Animation Studio and Gallery 839.
Andre Nieves was born in Brooklyn, New York and studied Art, Film and Animation at the School of Visual Arts in New York City. He currently lives and works in Burbank.
" Thanks to Russell Hicks and Vicki Fenton who gave me the opportunity to create these super fun projects at Nickelodeon Animation Studio in Burbank. "